Junior, Ethan Martinez serves up strong game for Cooper Pirates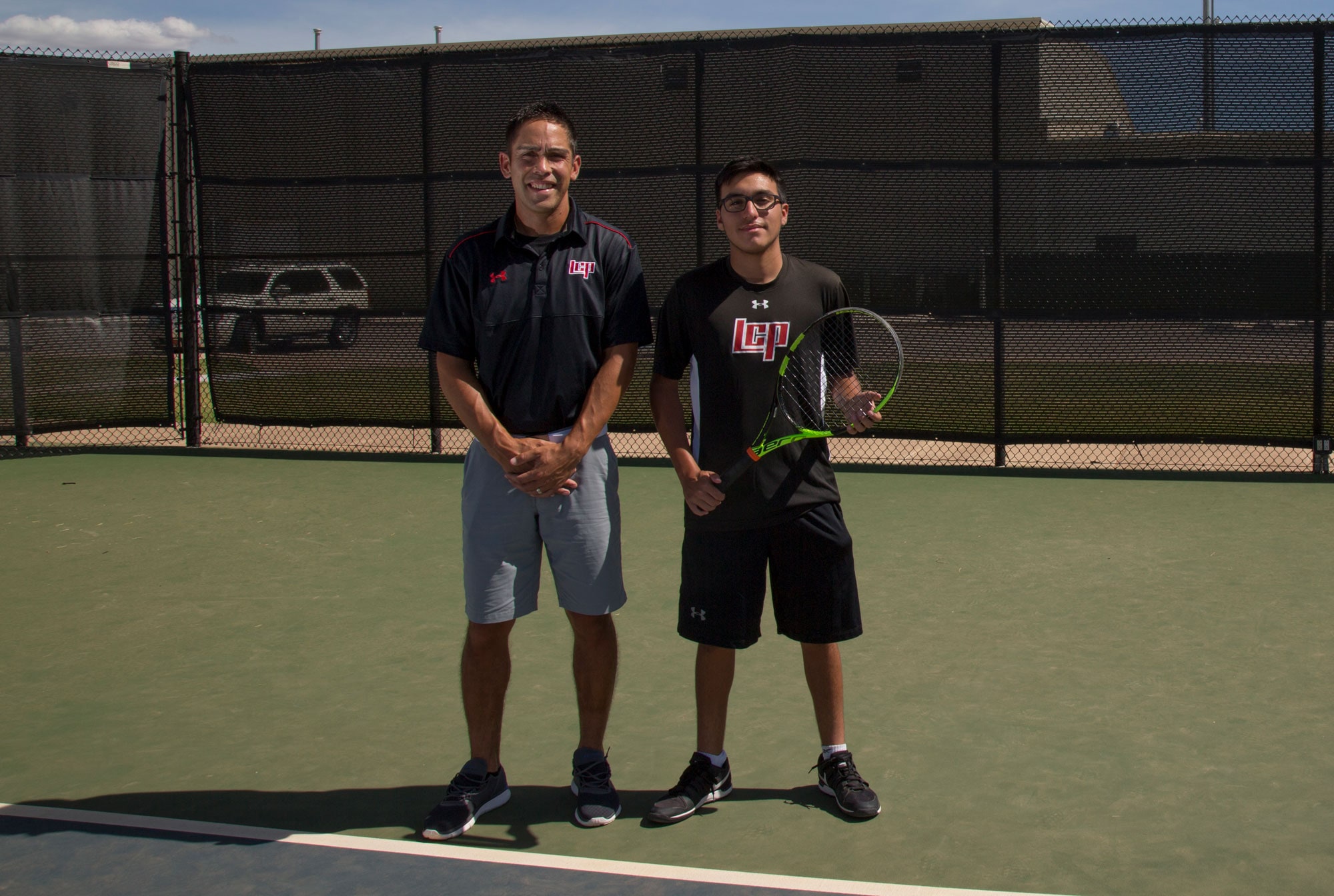 From the first time he ever stepped on a tennis court, Ethan Martinez knew he was right at home.
"I was a baseball player, a pretty decent pitcher," he said. "I didn't really want to go to PE, so I thought I would try tennis, and when I tried it, it just felt like I was meant to be there."
Martinez now has four years of competitive tennis under his belt, and he will be a junior at Lubbock-Cooper, where the tennis program's growth has coincided with Martinez's interest in playing.
"When I got here just a few years ago, we only had a varsity team with 16 players," said Cooper tennis coach Michael Breler, a native of Sweden and former Texas Tech player. "It's still a very young program. It's still a young program, and our main goal as coaches is to get more players involved."
Breler is in his third year with the program. He remembers his first year when they had tryouts for the varsity, and Martinez was one of the two players to take part.
"He has athletic ability," Breler said. "He is into tennis and his family moved into the district at the time we were working to get our numbers up and build the program. Ethan's been a great fit for us."
Martinez played in the No. 3- seed spot for the Pirates last season, and he still remembers that tryout a few years ago.
"There was a ton of pressure because I really wanted to make the varsity team," he said. "I knew if I worked hard, I would have a good chance."
He is dedicated to the sport, practicing three to four times a week on his own and playing tournaments on weekends. Not Sunday, though. "That's family day," he said.
Breler is confident that he has yet to see his player's best tennis.
"He's still a young player," he said. "He has a couple of years left. Ethan has a great work ethic, and when he is on the court, he's going 100 percent. He is committed to improving and getting better. He's been one of our top players in the lineup, so we're excited that's he got two more years ahead of him."
Becoming a better player every day is a top priority. Martinez said he wants to improve his backhand and also fine-tune his on-court strategy.
"I need to improve how I move them off the court, how I set up an approach shot, how I can serve to make sure the return is into my forehand," he said.
Like many players, he favors his forehand. "I have power and spin," he said. 'I can hit it with pace and make sure it's in."
As Martinez's game has grown, so also has the Cooper program.
"We had 28 kids last year," Breler said. "When we have tryouts, we're expecting a huge group of freshmen, and we're anticipating having as many as 50 kids and two junior varsity teams. That will be huge because a lot of other 5A programs have two JV teams. We've been able to more than double the number of kids in the program in a short amount of time."
Martinez has set some pretty lofty goals for the coming year. He's not worried about what position he will play on the team. He's just looking forward to the thrill of competition.
"Where I play, that's up to the coach," he said. "We all trust him because he knows what he's doing as far as who's going to play where. I just know for myself, I'd like to go undefeated this season. I think that could be realistic."