Strong spirit of teamwork helps carries New Deal track team to third straight state title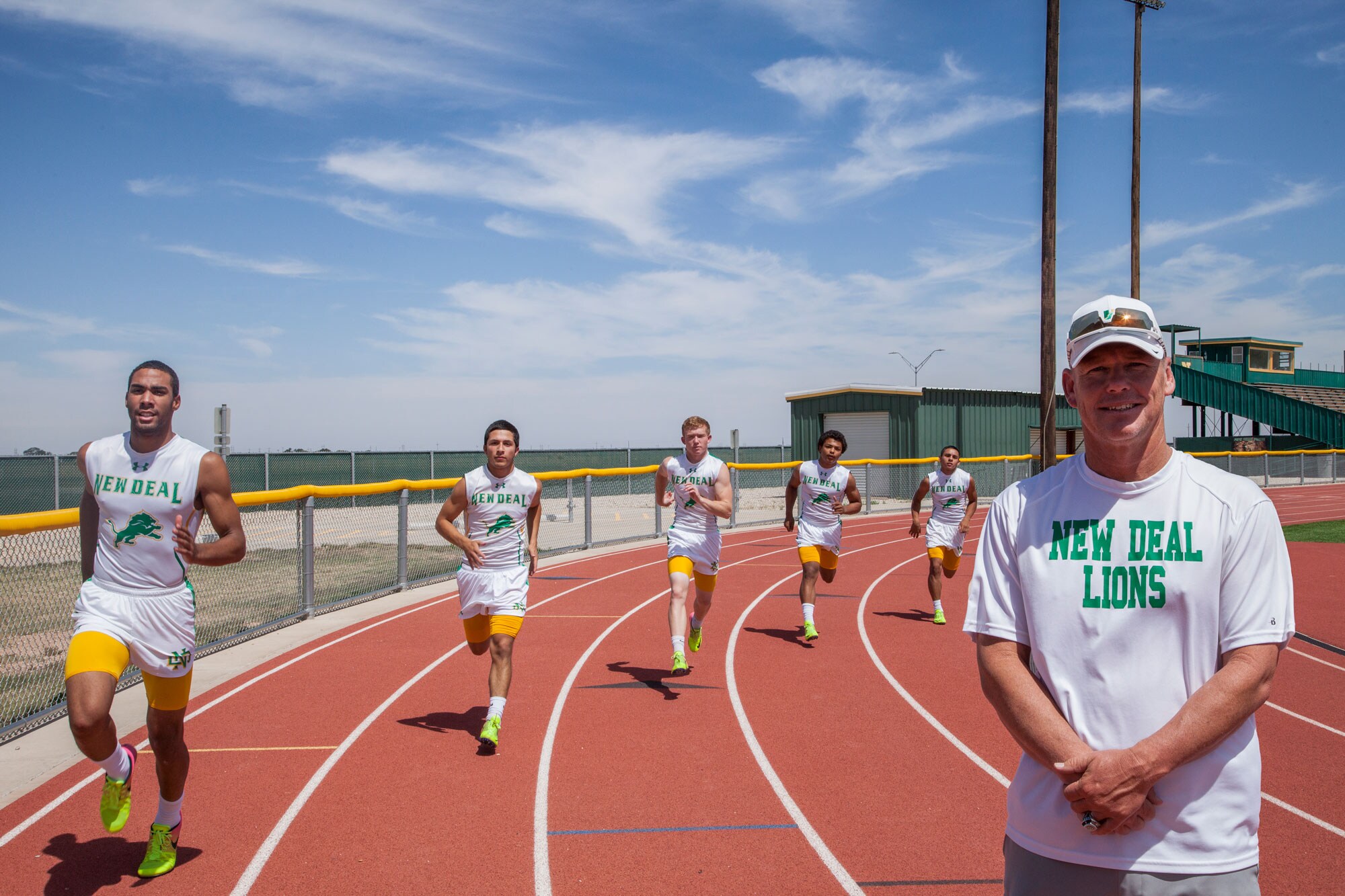 The third time was more than a charm for the New Deal High School boys track team. It was the stuff of which tradition-rich programs are made.
The Lions roared to their third consecutive Class 2A UIL state championship a few weeks ago in Austin. The team won the 400- and 800-meter relays and the 110-meter hurdles in hoisting the trophy again.
"The first one, we had a good group and we had good focus when we got to state," said head coach Kyle Carver. "He had been taking track athletes to state for 20 years but that was the first time we thought we had a real chance to be in the hunt. The second year, we had some kids returning and some very good young kids and we were thought of as the favorites.
"This time, we thought we had a chance but we needed a lot of things to go our way and they did go our way. It's been a great experience for these young men being a part of the program and doing their part to establish the tradition we have."
The Lions had two seniors, a junior, a sophomore and a freshman all score points in Austin.
"Obviously, our seniors provided great leadership as far as setting an example for our other athletes and letting them know about our expectations," Carver said. "They were instrumental in our success. But every one of them brought work ethic and focus every day. I think the success of the past helped this year. It was a great atmosphere to compete in, and we probably surprised a lot of people by winning a third one in a row."
The members of the winning relay teams were Mark Adams, Jordan Lacy, David Morgan, Brandon Coronado and Nehemiah Martinez.
"I just like to run," said Adams, one of the senior leaders, who competes on both relays and runs the 100-meter dash. "I love having the chance to run and being a part of a state championship again was a great experience. This is what we expect to do in this program. We want to go down there and compete to the best of our ability."
Carver said the team has been a joy to coach, and it's been rewarding to see how the program has grown in stature and tradition.
"All of them are just outstanding kids," he said. "They are a joy to coach. They are hard workers and they are all very coachable. They listen and they show up at practice every day ready to work. I feel like we have a tradition going, and I know they all want to do their part to uphold that and they're all willing to work their tails off to do it."
Lacy competes on both relays, runs the 110 hurdles and high jumps.
"I like competing; I always have," he said. "I like being out there doing my best against everybody else. I just like to compete. I have always been that way in life."
Adams said he will continue his track career at South Plains College.
"It's a great feeling being a part of this program," he said. "We couldn't ask for better coaches, and we couldn't ask for better teammates. I'm excited about the chance to compete at South Plains."
Lacy said it's been a great ride as part of the New Deal track program.
"It feels good being part of history," he said. "It's indescribable really. It's just this great feeling."
Lacy, who has signed to run track for Abilene Christian University, said the key to success started on the practice field.
"We say give 110 percent in practice," he said. "How ever you work in practice is how you're going to work in the meet. If you don't give it your all in practice, you won't in the meet. You have to treat every practice like it's the state meet, every single day."
By Doug Hensley
FOR Let's Roll Magazine