Legendary Tech football coach remembered for his ability to bring out best in players, people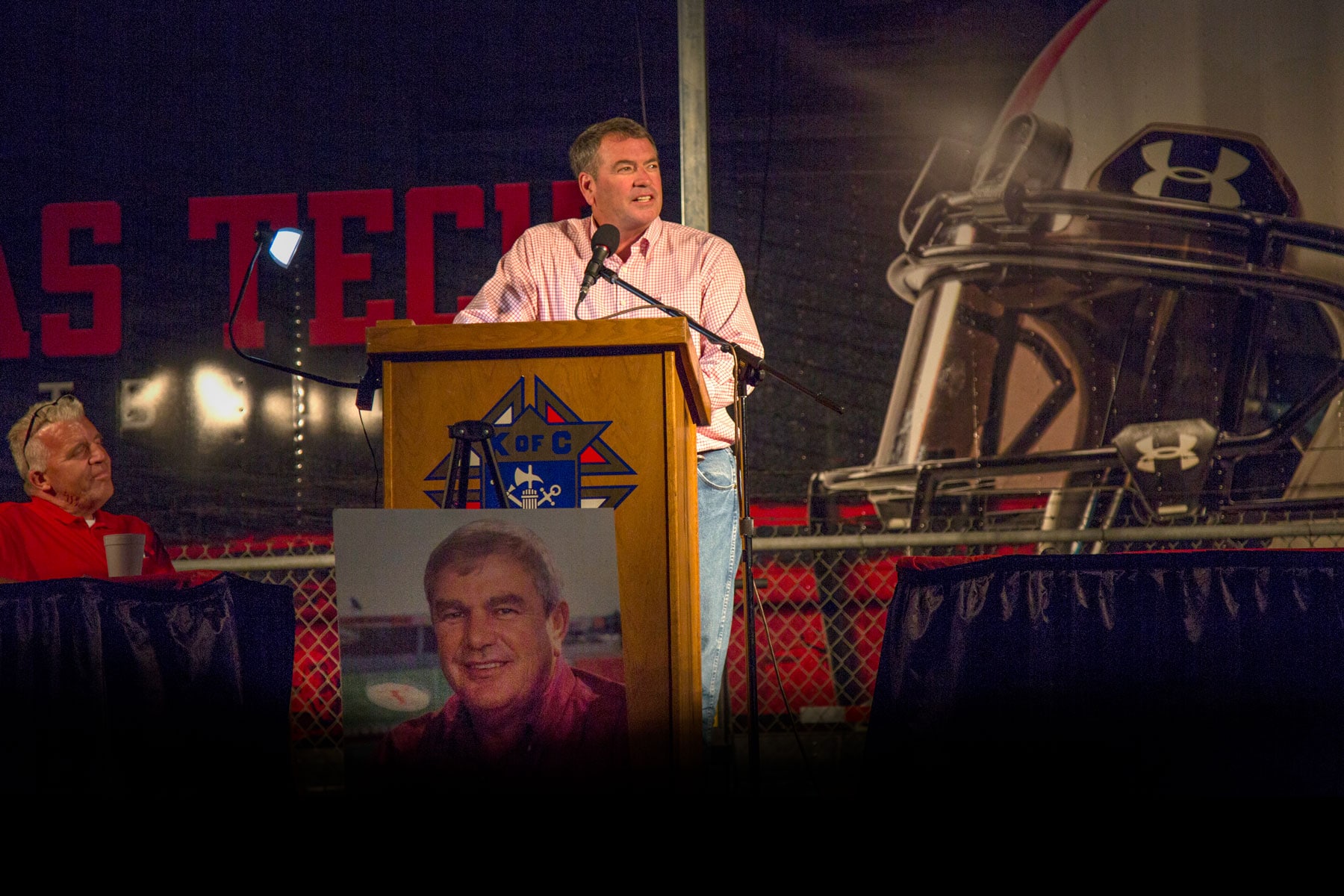 Reagor Dykes Auto Group co-owners Bart Reagor and Rick Dykes were among the featured speakers at the Knights of Columbus annual Tech Kickoff Night, which was held Aug. 26 at the Knights' hall.
The 48th annual event, which traditionally ushers in the Red Raider football season, was a tribute to former Texas Tech head coach Spike Dykes, who led the Raiders from the 1986 Independence Bowl through 1999. He passed away earlier this year.
A handful of former players, including Reagor, shared their memories of playing for Dykes during the event.
"I don't know if Spike liked me, but I know he loved me," said Reagor, a Tech letterman from 1984-87. "I came out to Lubbock 33 years ago, and it just seems like yesterday. I am very thankful for Lubbock and for Spike Dykes. I think we all loved Spike, and the reason is because he loved us. I'm going to miss him."
Rick Dykes served as offensive coordinator for the Red Raiders. He praised the assistant coaching staff as well as players for their loyalty and work ethic throughout Dykes' 10 seasons at the helm.
"Our success at Texas Tech was in correlation to the great coaches we had," he said. "These men gave time and service and loyalty to Texas Tech football. Spike loved coaching football at Texas Tech. He felt like it was the best job in America. The real winners were the players. He loved the players, and he was a player's coach. Sometimes decisions that were made might not have been best for the team, but they were always best for the player. He was always on the side of the underdog, the walk-on, the guy who needed a second or third chance. He was the eternal optimist who never gave up on a kid who needed help."
Reagor said when the company decided to purchase an auto dealership in Lamesa, he wanted to honor Spike Dykes by naming it after him. Today, Spike Dykes Ford regularly is the world's No. 1 sales efficiency Ford dealership in the world.
Others who spoke were Scott Toman, Ben Kirkpatrick, Field Scovell, Tracy Saul and former assistant Doyle Parker. Former Dallas Cowboys standout Russell Maryland was the keynote speaker for the event, which annually raises scholarship funds for the Red Raider football program.
"This was one of Spike's favorite events," said Rick Dykes. "He loved representing Texas Tech and meeting Red Raider fans. The Knights of Columbus event meant fall was here, two-a-days were over and football season was about to start."